A History of the Scottish Settlement in Southeast Michigan
Almont Township, Lapeer County
Bruce Township, Macomb County
Berlin Township, St. Clair County
Addison Township, Oakland County
It has been said of the modern Scottish race by some of its enthusiastic sons that, in proportion to its numbers, that race has produced more men who have taken a prominent part in the affairs of the English speaking world than has any other. Whether this be true or not, there are two facts bearing upon that phase of Scottish race-history to which attention may properly be called. The first and most important fact is, that nearly all the men of Scottish birth or descent who are renowned in history trace their family origin back to the western Lowlands of Scotland. That is to say, the district comprising the counties of Lanark, Renfrew, Ayr, Dumfries, Wigtown, Kirk-cudbright, and Dumbarton--in area about the same as Connecticut, and the most of which was formerly included in the Celto-British kingdom of Strathclyde,--has produced a very large proportion of the men and families who have made the name of Scotland famous in the world's history." Hanna, Charles A. The Scotch-Irish: The Scot in North Britain, North Ireland, and North America Vol.1 New York, NY: G. P. Putnam, 1902.
This is a work in progress. There are redundancies and an obvious need for editing. I have been working on the book for years now, and although progress is slow, the research and writing are a joy. I'll continue to post on this website as I develop the book. This web file will remain and be edited as long as I am able to manage the website (Doug Baldwin, 2013). Below is an outline that was originally used to store information that I gathered for inclusion in the book. It got out of date as I developed the book (rather than worked on the website), but you may still find the comments useful, so I will leave it as is--just know that the hardcopy and the web link below are more current.

In 2012, I began publishing the individual hard copies of the Scotch Settlement book. There are two ways you can access the book. I copy data to a web link as I find the time to do the HTML coding. Here is the link to the book that is complete so far (incomplete as I write this in 2013):

Scottish Settlement Book

Another way to view the book is to go online and connect to Blurb.com. In the search box, type in "Doug Baldwin" and a list of my books will come up (mostly family travel books and books I do for my special education students). I have turned on preview so you can look at the whole book. I would not recommend buying the book at this time, because it is not finished, and besides it is free on the net anyway! Blurb just started making books available in PDF format which makes them much cheaper. Without PDF, the book costs close to $200--because it is photo-quality paper. I don't mark up the cost of the book, so the cost is just for publishing- my work is a labor of love.

Last update: February, 2013

Who were the families in the settlement?

In the beginning: Early families 1820 to 1860 (Census and Cemetery records)

Where did they come from in Scotland?

How they got here; transportation

Tracing the individual families; alphabetical order

Relationships: intermarriage and family links

Affiliations (Church, Political, Organizations)

My Connection to the Scotch Settlement
My personal interest in this research stems from genealogy studies of four branches of my family, the Wallaces, the Rutherfords, the McEwans, and the Mairs. My gg grandparents were David Wallace (son of John Wallace and Margaret Mair) and Catharine A. McEwan (Daughter of John McEwan). Catharine and David's third child, who was born in the Scotch Settlement in Lapeer was named Sarah Wallace. Sarah married Robert Rutherford who had moved down from the Northumberland region of Canada and was working in the Scotch Settlement. Robert's family was also from the lowland area of Scotland, the Borders region. Sarah and Robert had a daughter Mable Rutherford, and Mable's third son was Douglas Wallace Baldwin, my father.
On the back porch of my sister's home in Fenton, Michigan in the summer of 2002, my father casually mentioned that his mother Mable was pure Scottish. "No kidding!" I said. "Where were they from in Scotland?" Nobody knew, and that began a long and wonderful journey back into my history. A detective story unfolded clue by clue, slowly as years passed, until, in 2004 I hit a brick wall. There were no more records, no letters, no family alive who could tell me more. It looked like I was never going to figure out where my relatives came from in Scotland.
After some reflection, it seemed that the only way I was going to get over that brick wall was to study the entire history and development of the Scotch Settlement. I knew that when Scottish clans left their farms and traveled to other countries they almost always regrouped in the same location of the new land. Sometimes entire Scottish communities left together and reformed their extended families in other parts of the world. Letters would slowly pass over the oceans and entice new emigrants to join their families in the new land. As transportation improved in the late 1800s, travelers went back and forth between family in Scotland and family in Michigan. It was a good guess then that the Scottish families knew each other before they got to Michigan. We would expect that the families came at least from the same region of Scotland. Somehow, there was a social meshwork, a communications network, and complex family ties that linked every single inhabitant of the Scotch Settlement. The question was how, and the task was to map the social meshwork.
So I began the research. I wrote many an email and spend days in Almont, Bruce, Addison, and Berlin Townships talking to people. Over time, I got more and more fascinated with the entire community of Scottish families. I met fellow genealogists on a similar quest and together we began a long and thrilling walk back into history.

Scottish Settlement Families
The first quest was to determine who the families were that made up the Scottish Settlement. There was a lot of coming and going, so the answer to this is not clear. There were early pioneering families who started in the Settlement but who moved gradually to nearby locations. Others moved to other states, to Canada, or back to Scotland. Families arrived at various times over a 40 to 50 year stretch. I'll start a list below and as I learn more and talk with fellow researchers, I'll add further family names.
At a meeting of the Almont Historical Society in 2004, I was told by local residents that some of the families I had listed were not Scottish. I got the names originally from Hilda Mae's book (9) which was about Almont, so I may have gotten Almont Township settlement families mixed up with Scottish Settlement families--I did a revision in January 2005, and I will continue to add or subtract families as research develops. There were times when members of a Scottish family were the only representatives of that family name in the Settlement. An example of that is my own G.G. grandmother Catharine McEwan. As far as I know there were no other McEwans in the Settlement, but I have included the "McEwans" below, and will include other family names using this relaxed strategy.
As research progressed, I began to realize that there was a wealth of information about the Scottish families in each of the bordering counties. I had been concentrating on Lapeer County and Almont Township (logically, since that is where the core of the group ended up), but when I looked in Wayne, Macomb, St Clair, and Oakland Counties whole new research directions popped up and new Scottish Settlement families became known. In Macomb, for example, I discovered the Gray family. There is no mention of them in Almont, but they were a prominent Bruce Township Scottish Settlement family. The Allens are another example of a Settlement family that was more "visible" in Bruce Township and in Berlin Township in St Clair.
The Almont Township Perspective: Commentary found in Lapeer County Records (3) (4):
The Scottish Settlement was the first permanent settlement in Lapeer County. It was "founded" by David Taylor, John Hopkins, James Thompson, and William Robertson. The Settlement was marked and dedicated in 1927 by the Lapeer County Historical Society.
The first Scottish families who came to the Settlement near Almont had their own cemetery. That Cemetery is still being cared for (2010). Local residents remember the Presbyterian Church on the grounds of the cemetery. There was also an early school. The cemetery, church, and school were built all along what came to be known as Scotch Settlement Road (still called that today).
"The Scotch Settlement was greatly enlarged by the families of the Cochranes, Mortons, Millikins, Hamiltons, the Muirs, Mairs, Marshals, Fergusons, Reids, Borlands, Braidwoods, Patons, with John Wason, William Wallace, and others. Zadoc Hallock in 1838 settled half a mile east of the village and cut the first road and took the first wagon eastward into Berlin Township. Joshua Smith and Thomas Morton settled by the "Red Run" in 1838. Mark Farley in 1840, David and William Clark, and Virgil Parmalee moved to Belle River Settlement, while Charles Kennetts Sr. and Jr., Solon Spafford and William Nicchols came a couple years later. In 1838, Adam Boles built a grist mill a half mile east of the four corners. It was later purchased by James Mead and changed from water to steam power. Mead was later killed in a mill accident."
The Bruce Township Perspective: Commentary found in Macomb County Records (2):
"In the year 1830 or 1831, the portion of the township known as the "Scotch Settlement" began to be occupied. One or two families- Crawford and Wylie, also David Taylor- were there previously. Dr. Neil Gray and his brother Hugh came to Romeo, and, acting on the advise of Jesse Bishop, located the tract since known as the Gray farm. The relatives of the Grays came over from the country of Robert Burns and settled near the Gray farm. The Resides, Reids, Hopkinses, Muirs, Hamiltons, Borlands, Stephanses and many others soon followed. Josiah T. Sanborn, one of the first settlers of Bruce, still resides in the northeast part of the township."
Here is a link to the families of the Scotch Settlement so far documented.
Besides documenting who the families were that made up the Scottish Settlement, I am also interested in how they knew each other in Scotland and in Michigan; what regions and cities they came from in Scotland, and who were neighbors in the Settlement. There was heavy inter-marriage--the detailing of this meshwork will probably fill an entire two story wall. We will gain further details of the society by studying religious affiliations. The Presbyterian Church is Scottish in origin and it found a safe place to grow in the United States. Catholics kept separate records and there is an entirely different avenue for tracking family genealogy (Parish records in Great Britain, for example, do not include Catholics or religious skeptics). Finally, it will be helpful to understand the migration routes these families used to arrive in the Scottish Settlement. Did they come in through Canada? Did they take trains? What were their options?

In the Beginning: Early Families 1830 t0 1850

We don't know the first person who (perhaps) sat before a raging winter fire in a small Scottish village and thought "Maybe, I should go to the wilderness of America." There is no way to know for sure who started the migration to our Scottish Settlement. Why they picked southeast Michigan (which wasn't even a state in the union until 1837) is another huge mystery-how do you leave a small place like Galston, Scotland (for example) and end up in a tiny and swampy hamlet in the thick woods of an uncharted territory? Those of us who live in Michigan (lovely as it is) and who have been to Scotland also ask "How in the world could someone leave a country so stunningly beautiful?" Scotland is one of the most beautiful locations on planet earth--it is a mystery why anyone would leave such a place! The opportunity for inexpensive land must have been a major reason they left. It was also the beginning of the industrial revolution; traditional jobs (like weaving) were disappearing.

We can say with some certainty who the very early Scottish Settlement families were because of the Federal Census for the years 1840 onward, and from early history records, and letters that are preserved. We also have the names of those settlers buried in the Scottish Settlement Cemeteries. I listed below (a link) to the families from the Almont census of 1850. I will also research the 1840, 1850, 1860, 1870, and 1880 Federal Census lists for the four counties.

Once the pioneering families established their homesteads in the Settlement, and especially (I presume) after they founded the Almont Society, and built their church and school on Scotch Settlement Road in Almont Township, then there was a place with an identity that was Scottish and welcoming; more and more Scots were drawn to southeastern Lapeer County (and neighboring regions of other counties that were included in the Settlement). The Almont Society was started in 1851. Records from the Society say that the first family was the Hamiltons who came to the area in 1840. Letters from the Hamiltons back home presumably started to draw other Scots to the Settlement. The 1850 Federal Census for Almont lists nine members of the Hamilton family.

Another common practice provides additional clues to the family migration patterns. Assuming that the families came directly to the settlement in Michigan is probably not correct. There probably were earlier pioneer settlements further east of Michigan. These served as layover destinations. An example of this are the Scottish communities in Canada. My Rutherford relations settled in a Scottish community in the Northumberland region of Upper Canada (as it was called before Ontario was established). The villages along the St. Lawrence Seaway were convenient locations for settlement--not long after the pioneers arrived in Montreal or Quebec, after the long Atlantic voyage. Also, because of over population in Scotland, and because of the War of 1812, British politics favored supportive emigration to selective locations in Canada. Laws were passed that enabled pioneers from Great Britain to receive ship passage and free land if they agreed to settle in strategically important areas of Canada, for example along the border with the United States (to discourage further US advances on Canadian territory, as occurred during the War of 1812). The Scottish settlement of Lanark in Ontario is an example of a government supported colony of Scottish emigrants. There is growing evidence to suggest that our Scotch Settlement in Lapeer County Michigan received a few settlers from the Lanark community in Ontario (or from surrounding communities--not verified).

Cemeteries with Scotch families:

Scotch Cemetery Almont Township (on Scotch Settlement Road).

Where did they come from in Scotland?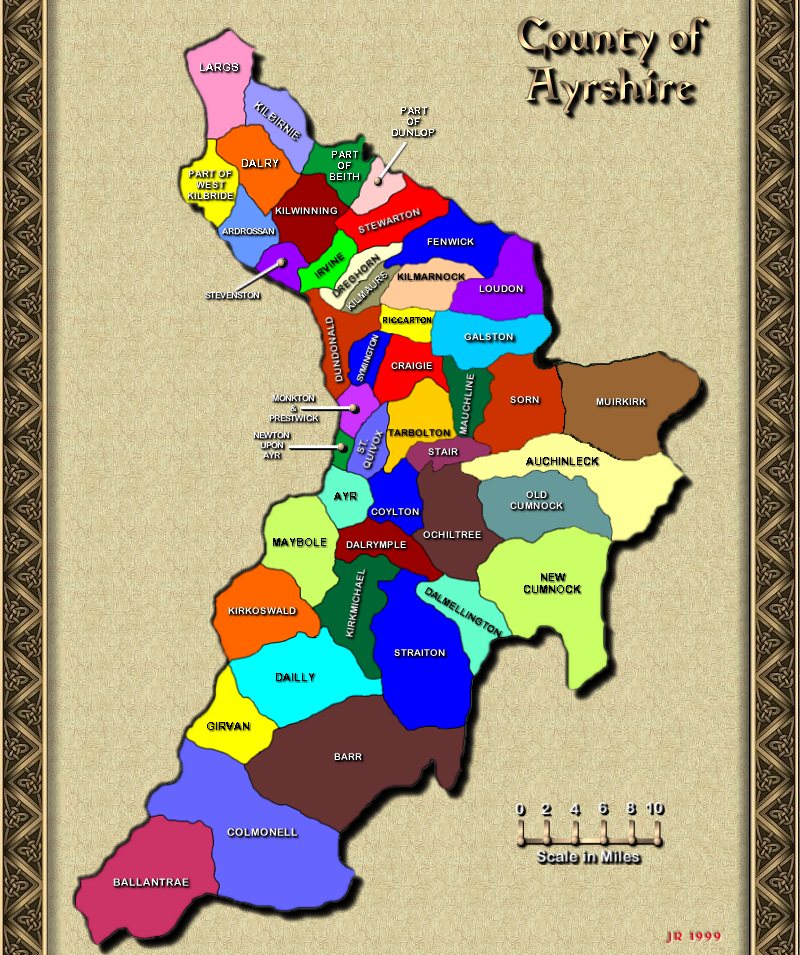 A pattern emerged as I began to piece together information about these families. Most of the families it seems came from the Ayrshire region (County) of Scotland, an area in the western half of Lowland Scotland, south of Glasgow. There is a South Ayrshire, a North Ayrshire (which includes the Isle of Arran), and an East Ayrshire. If you compare
Parish records
, most of the families clustered around East Aryshire. Ayrshire borders Dumfries-Galloway County on the south (and south east) and it extends up the coastline of the Firth of Clyde toward Glasgow. South Lanarkshire County borders East Aryshire. North are several small Counties and Glasgow; several families came from Glasgow and the surrounding suburban counties.
In the magazine article (7) "Migration Patterns of our Scottish Ancestors", The author writes: "Most of the Scottish settlers who came prior to 1854 came from the region of Glasgow, Lanark, Renfrew, and Ayr (21.7%) or Argyll (13.9%). Others came from Edinburgh and Lothians (10.6%), Inverness (9.3%), Southwest (8.9%), and Perth (8.7%)". The Scottish ancestors who left Ayrshire and the surrounding counties accounted for about a quarter of the Scots migration. Fully half (at the least) of the pioneers came from southern Scotland. Our ancestors then were part of a mainstream migration pattern from southern Scotland (Ayrshire region in our case) to America.
Ayrshire, of course, is the birth place of Scotland's national poet Robert Burns. The Scottish families who left Scotland in the 1800s lived just after the death of Robert Burns in 1796. Their parents and grandparents were contemporaries of Burns; they walked the same streets of Tarbolton and Mauchline.
After researching the settlement for a few years, it began to dawn on me that there may have been three waves of families that merged together to form the broader Michigan community. Early migration out of Detroit placed the first Scottish arrivals in Wayne and Macomb counties. These were the Gray's, Resides, Crawfords, McKays and others. As the pioneers inched their way northward, they moved into southern Lapeer County first. Later (maybe about the same time), the Berlin Township families (Dodge, Ives, Mc Arthur, Robb, Robertson, Hamilton, Marshall, Morton) came together, mostly (it seems) around the New Church (The Almont Society).
Two weak (and suspect) pieces of evidence suggest that a group of families may have come from the highlands. First is the statement in the book "Portrait & Biographical Album of Genesee, Lapeer & Tuscola Counties" (4) that says that the pioneer William Wallace was a highland Scot. Here is the sentence I refer to: "In the early days at home he received but a modicum of education, but like most of the Highland Scots he learned to read, his thoughtful and earnest mind was ever eager for literary food of the best class." So far, my research of the Wallace family (or families) who lived in the Scotch Settlement strongly suggests that they also came from Ayrshire- my branch probably from Mauchline and Tarbolton. In the summer of 2003, I traveled to Scotland and looked in parish records. I found the birth record for the pioneer William Wallace. He was christened on October 6, 1771 in Mauchline Parish in Ayrshire- he was not a Highland Scot.
The second bit of evidence for Highland Scots being part of the Scottish Settlement is the diary of Mark Braidwood (9) which says that "We are in a settlement of about 200 Scotchmen, all within a few miles of us. Others, some from Gap Brae, a number of them carpet weavers, are first rate farmers." The only "Brae" I find in Scotland is in the Shetland Islands. There are two settlements called Brae, one southwest of Dumfries (which would be lowland Scotland) and the other in the northwest highlands near Loch Shin. On the other hand, "brae" means hill or hillside in Scottish, so Gap Brae may be a local name (gap hill?) found in Ayrshire.
The best evidence so far that some of the residents came from the Highlands is the statement that David Borland, an early Scotch Settlement pioneer "was born at Buluth Gaire in the highlands of Scotland". I can find no reference to "Buluth Gaire" on the internet or in a Scottish Gazetteer- another mystery.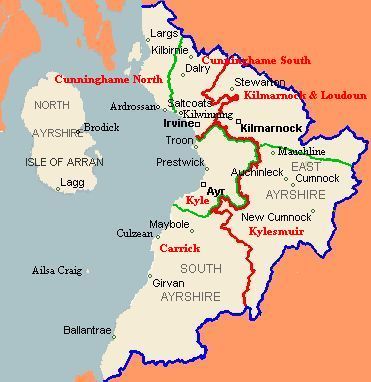 Ayrshire

The region of Scotland that is now called Ayrshire was given boundaries and a name around 1130 to 1150 (10) during the reign of King David I.

From the top of Ayrshire at Kelly Burn to the southern most point at Galloway Burn is ninety miles. At the widest point, Ayrshire is just twenty eight miles wide. The total area covers 1,132 square miles. By comparison, the state of Michigan is 490 miles long and 240 miles wide. From the center of Aryshire, using Kilmarnock as a reference location, any place in the county is within thirty five miles. This means that our Scottish pioneers lived in close proximity to each other and it reinforces the belief that the families knew each before they left their homeland- the probability increases as the boundaries decrease.

The population of Ayrshire was about sixty thousand in 1750 and eighty thousand by 1800. From 1800 to 1850 the population more than doubled to 190,000.

Transportation: Trains, Boats, and Wagons

The following was taken from "Pioneer Families and History of Lapeer County, Michigan"; published in 1978.

"How did our ancestors come from the east? It was a widespread operation, carried on to great extent by the state, transportation companies like boat lines and railroads, and even by religious sects. An 1838 Michigan gazetteer shows the principle "routes from New York, the Eastern States and Canada, to Michigan, including railroad, canal, stage and steamboat routes- distances- expenses, etc." The Erie canal and lakes then were the principle channels of migration to Michigan, although in favorable seasons land travel was used through Ontario, and on the south shore of Lake Erie...There was a stage route from New York to Buffalo, 385 miles. ...travel from New York to Albany was by steamboats, from Albany to Utica by railroad, ...from Utica to Buffalo by stage or canal boats (via Lockport). About 3,000 boats operated on the Erie Canal. From Buffalo there were 20 steamships and numerous sailboats also left for Detroit.

"...Michigan employed an emigrant agent...In the late 1830's and early 1840's "Michigan fever" swept the East, and millions of acres of land were grabbed at the bargain price of $1.25 an acre.But the panic of 1837 forced the state to cut back on improvements, and ruined many land speculators as well as legitimate investors. Michigan's economy stagnated, so the state turned to the immigrant for salvation. By selling its state and federal lands Michigan could pay current debts and accummulate a large number of taxpayers at the same time.

Mark Braidwood's passage through America represents a fairly common route:

Land at New York City Harbor
Take a boat up the Hudson to Albany
Take the Erie Canal to Buffalo
Take a lake steam boat to Detroit (where friends are gathered to meet you)
Work your way north over plank roads or rough trails to Utica, Romeo, the Scotch Settlement (with stops along the way)

Archibald Bryce took a Canadian route. He landed in Montreal and worked his way over to Michigan.

Ships and Boats

There were ships that sailed the Atlantic and ships that sailed the Great Lakes. Settlers made reference to both.

Atlantic Ships:

Ship Mortimer Livingston (From a New York newspaper): "Barstow, sailed from Glasgow (Greenock), 47 days at sea, mdse. and passengers to Chamberlain, Robinson and Co. July 3, lat 37, lon 38 had a very heavy gale from SW to NW. On the 4th saw a ship bound west with loss of main topgallant mast: also one bound east with loss of fore topgallant mast. July 29, lat 40 30, lon 99, Lawrence Harding fell overboard and was lost."

The voyage of Catharine and David lasted 47 days. From the latitude and longitude readings I should get an idea of the route they sailed from Glasgow to New York. Chamberlain, Robinson and Company lodged the new arrivals. Also, I am wondering if "Barstow" refers to the captain of the ship. They arrived Sunday, August 1.

Sarah and Arsilla: "Jean Millikin emigrated with her husband Thomas Morton, her sister Catherine Robb and her husband, Samuel, and Samuel's brother John Robb and his wife Mary. They sailed on the ship "Sarah & Arsillia" from Liverpool, arriving in New York, 21 May 1838. Jean was expecting her first child when they landed in New York, then made the trip to Michigan in just 20 days, where Anna was born June 1838 in Bristol (early Almont was named Bristol- editors note" (6)

Conway: The Paton family left Galston via Glasgow and Greenock in May of 1852. They sailed to American on the ship Conway. Here is a quote from a document left by Annie Paton Swain. (9)

"In 1852, my father brought his family to Michigan. (this is the same year that David Wallace and Catharine McEwan came to Michigan) We left Galston on Saturday, the eighth of May, and stayed over Sunday at Uncle Alexander's in Glasgow. On Monday, we took the steamer down the River Clyde, and sailed from Greenock on the sailing ship "Conway" that evening, and landed in N.Y. seven weeks from that day...... We went to Albany and Buffalo by rail and from there to Detroit by steamer-The Atlantic- Friday evening. (That vessel was wreaked on her next trip from Buffalo.)."

Ships that sailed the Great Lakes:

Lady of the Lake:

Atlantic:

Roads

There still exists a road south of Bruce Township and leading from Detroit toward Romeo called the "Romeo Plank Road. M-53, which runs south through Utica and north through Romeo and then Almont must have been a key pathway through early history. Near Utica is a canal road which cuts from near Utica toward Detroit Harbor. I need to do more research on this route.

Tracing family lines back to Scotland
Borland Family
David W. Borland was born on a farm near Kilmarnock, Scotland, on May 11, 1850. He came to America in 1853 at the age of three with his parents Janet Wilson and Thomas Borland II. They settled first in Macomb County for eight years and then moved to the Scottish Settlement on Boardman Road. Many Scottish families migrated to the settlement between 1835 and 1850.

Bowman Family
Henry George Bowman (1832-1912) married Mary E. Rutherford, daughter of Sally Hunt Rutherford and John Rutherford. Mary was born in New York State (can these Rutherfords be related to my clan?)

Braidwood Family
"Mark Braidwood was born in Ayrshire, Galston, Scotland in 1804, where he learned the weaving trade. He moved to Kilmarnock where he spent 16 of the happiest years of his life. On March 23, 1840, he married Mary Blane ( from Newton upon Ayr) in Kilmarnock. In 1842, he went to the state of Michigan and settled in the Scotch Settlement..." (Bowman, 1985)

George and Margaret (Smith) Briadwood were married in Newton upon Ayr in Scotland. They had 12 children and died in the same area. Three brothers (George, Mark, and Alexander Harper Braidwood) and one daughter (Margaret) came to America, the boys in 1842 and Margaret in 1843.

(This is important because one thread of my research puts the Wallaces in the Galston, Kilmarnock area)

On page 26 of Hildamae Bowman's book "Almont: Then and Now" is a wonderful article from the diary of Mark Braidwood, dated August, 1842. There is a description of his passage from Scotland to America, notes to his wife who was to follow him on a separate voyage. Here is an excerpt (to his wife) that talks about arriving in New York:

""New York is terrible. I was glad to get out of it...When you come to New York, the sooner you get out of it, the better. Then you take out your passage to Albany first. Do not engage any farther. Then you will get a boat to take you up the canal to Buffalo, and from there you will get a steamboat to cross the lake to Detroit, and I will meet you there."

Here is an important sentence from the diary: "Tell Hugh Reed to come out and have a month of shooting..." This means that the Reeds knew the Braidwoods back in the Galston, Kilmarnock region of Scotland (spelled Reid on the Plat charts). This is the first solid evidence of a connection between these families. Later, he writes "We are in a settlement of about 200 Scotchmen, all within a few miles of us. Others, some from Gap Brae, a number of them carpet weavers, are first rate farmers."

The reference to "Gap Brae" opens up a whole new area of inquiry. One reference to my Wallace clan (to the pioneer William Wallace) says that he was a highland Scot. This did not mesh with any of the evidence I had collected so far about the Wallaces or the Scottish Settlement families. The Collins "Scotland Atlas and Gazetteer" lists nothing under "Gap Brae" (nothing under Gap). Only one village is listed under "Brae" and that is in the Shetland Islands, well north. Two settlements are also called "Brae", one is southwest of Dumfries, and the other is (I never finished this!)

Archibald Bryce Family
Archibald Bryce was born in Peebles, Scotland August 28, 1849. He married Christina Hutson in Glasgow, Scotland June 15, 1877. He came to Montreal and then to Michigan in 1881.

Cameron Family
William Cameron was born in 1816 in Ayrshire, Scotland and came to St Clair County, Michigan as a young man. He married Isabel Reid.

Cochrane Family
The Cochrane family came from Perthshire, Scotland according to early Lapeer County records.

From the 1880 United States Federal Census:

Living in Almont:

(all below are listed as being born in Michigan)

David Cochrane, age 31, dry goods merchant, father and mother both born in Scotland
Jennie Cochrane, age 24, keeping house, father and mother both from New York
Lura Cochrane, age 1, daughter
Andrew Cochrane, age 26, brother, clerk in the store, father and mother both from Scotland
James Cochrane, age 24, clerk in the store, father and mother both from Scotland
Mary Graham, listed as other, age 22, servant, Father from Canada , mother from Ireland

Living in the city of Berlin in St Clair County, Michigan (for the 1880 census):

Agness Cochrane, age 56, born in Scotland, farming, father and mother both from Scotland
David Cochrane, son, age 21, born in Michigan, farming, father and mother both from Scotland
Margaret Cochrane, Daughter, age 20, at home, born in Michigan; father and mother both from Scotland
Agness Cochrane, daughter, age 17, born Michigan, at home, father and mother both from Scotland

This is from one of the history books for Lapeer County (not sure which one yet, this came off the internet):

"William Cochrane, a farmer and stock raiser residing on section 25, Almont Township, Lapeer County, Michigan, was born in Perthshire, Scotland, about 1820. He is a son of David and Elspit (Elspeth? Jackson) Cochrane. Elspit died in Scotland when William was about ten or twelve; he was the second of five kids. The eldest child was John, then William, then David, Christina, and Elizabeth. The father married again and had five more children. So, when the father David Cochrane came to America in 1839 he had ten kids with him. Two years after arriving in America David died. William began working for himself when he was fifteen. In 1842 he purchased 80 acres of land. He bought more land over time and ended up with four hundred acres. When the family arrived in Michigan there were no roads and the land was densely wooded.

Here is an internet message that I found on a surname board. I was unable to communicate with the person who sent the message since her email had expired. It is about William Cochrane's father David:

"David Cochrane was born about 1780 possibly in Perthshire. He married Elspit (or Elizabeth) Jackson who died 1808 to 1810. He then married Christina Rathray and moved to Michigan in 1839. All of his ten children were born in Scotland (here are six of them):

1. John; born March 15 1817; died September 29, 1906 in Almont Township, Lapeer County, Michigan
2. William; born in Perthshire January 17, 1820; died July 18, 1912; married in about 1846 to Isabel C. Gairnes
3. David; married Janet Rathray
4. Christina
5. Elizabeth
6. James; born April 14, 1823; died October 30, 1917

"William married (when he was 26) Isabel C. Gairns, a native of Scotland, who came here with the family of Charles Ferguson. William and Isabel had nine children. Alexander died when he was twenty four. William helped build all the early churches and school houses in his vicinity."

William is mentioned in Hildamae Bowman's book: William (1819 to 1912) was one of the pioneers of Almont Township. He was born In Inchsconins, Scotland, Perthshire. He came with his parents to America in 1841. In 1847, he married Isabelle Gairns of Erroll, Scotland.

In October, 2004, I got this nice email from Alison Jensen:

I was very excited to stumble upon your Scottish Settlement web page. I have recently started working on our family history with my great, great Uncle, Al Cochrane. I have information up to David Cochrane but that is about it. We also have the plat map for the Almont Township dated 1874 - my Uncle pointed out the land that his family owned. I am sure that there is a connection between the Wallace and Cochrane families and I am excited to research it more. I know he did mention that our ancestors owned the Braemar Castle in Scotland – through the Farguharson family.

If you have any more information that you could share with me I would be so grateful. I am sending the information that I took from your web site and sending it to my Uncle, hopefully he will have some answers for me.

Thank you so much for sharing your web site

Sincerely,
Alison Jensen




Downie Family
The following was taken from "Family Records and Stories of Scotland: The Downies" by James Hunter Downie.
Early records place the Downie name near the Forth and Clyde Canal in the lowlands of Scotland. The family owned an Oatmeal Mill at this location. The Mill was at the first lock of the canal at Camelon (the Romans called it Camelodunum) on the river Carron. A nearby port is called Port Downie, and a factory is called Port Downie Foundry. Camelon is a mile from the town of Falkirk where the patriot William Wallace was defeated by the English in 1298. The first Downie of record (no name) was killed by machinery at the Mill. His son John Downie took over operations after the father's death.
John Downie had a son whom he also named John Downie. This second John (died on the island of St. Vincent, October 8, 1795 while a member of the Black Watch, 42nd Highlanders) was a blacksmith in Paisley; he married Jean Reid, probably about 1785. They had three children: John; Jean; and Margaret. This later John Downie (3rd) was born on Cotton Street, Paisley, June 3rd, 1787. He became a Master Weaver. By 1823, he had hired weavers who owned their own looms and he rented a warehouse on Caldside Street. The business outgrew the location and the warehouse was moved to George and Causeyside.
By the mid 1800s in Scotland the industrial revolution had essentially destroyed the weaving profession. Automated looms had replaced skilled craftsmen. So, in 1848 John Downie closed his business and sailed to America. He took his entire family to Michigan, to Almont Township in the County of Lapeer. His eldest daughter Jean Downie had married into the Hamilton family, and the Hamilton clan (lead by William Hamilton) had already settled in Almont, in what was soon to become the Scotch Settlement. When the Downies arrived, they found themselves in a densely wooded flat land, about 50 miles north of Detroit.
The Hamiltons lived in a small log house, too tiny to hold all the Downies. So, part of the family went to live with the Wassons, a quarter mile away. The Wassons had arrived in the area in 1835, two years before Michigan became a state. Eventually, John Downie built his family a house near the Hamiltons with enough room for all of them.
John Downie's wife was Janet Sproul, who was born in Paisley, Scotland on October 11, 1789. Her father was Andrew Sproul and her mother was Ellen Skeil, whose parents lived in Yorkshire, England.
In 1864, the Downies moved to Chathan, Ontario. Soon after this migration, both parents died and the children went to live with relatives. Two of the Downie children, Jean and James Hunter Downie returned to the Scotch Settlement in Almont to live in the same house they had left- now occupied by their aunt Jean Hamilton.

Gray Family
Neil Gray MD was a pioneer in the Scotch Settlement in Bruce. He was born in Kilwinning, Ayrshire January 2, 1803. He came to America in 1831. On March 30, 1837 he married Maria Webster. They bought 200 acres of land and settled in Bruce Township. Dr. Gray was educated at Glasgow Medical College; he graduated in 1830. His parents were Neil Gray (1775 to 1852, born in Ayrshire) and Mary Wylie (1802 to 1868). He came to America with his brother Hugh Gray (1806 to 1882). Hugh married Emma E. Burr who was born in Connecticut (or was from Conn.).
The parents (Neil and Mary Wylie) came to New York in 1827 with their sons Neil and Hugh. (the same reference (1) gave two different times for the arrival of Neil Jr. to America). They bought land on Mc Kay Road (becomes Scotch Settlement Road just before it crosses into Lapeer County).
Neil Gray Jr had a son Robert (1816 to 1877) who was also born in Ayrshire (May 12, 1816). He married Isabella Fogo from Scotland.

The Hamilton Family
Lizzy Hamilton was a teacher in the Scotch Settlement school; "The sweetest teacher I have ever known." (11)
The Hamiltons came over from Scotland in 1844 and settled near the Wassons (11).
An article in the Almont Lamplighter for July-September 2007 fills in many details for the Hamilton family. The article was written by Betty Jean Neuenfeldt, the great-great granddaughter of original pioneers William and Jean Hamilton.
See Dr. William Hamilton's "A short History of Almont".

Hopkin's Family
The following was taken from "Family Records and Stories of Scotland: The Hopkins"; by James Hunter Downie.
The Hopkins family came from the town of Galston in Ayrshire, Scotland. The name was once spelled "Hopkyns", and some of the family retain the final "s" and some do not. The first member of the family came to the Scotch Settlement in 1833.
The Robertson family came over on the same ship as the Hopkins, and the two families bought adjoining tracts of land. They built a log house on either side of the property line. The Hopkins were also related to the McKays and this evidently was a factor in the McKay migration to the Scotch Settlement in 1854. The ship that the McKays sailed on hit an iceberg near Newfoundland and sank quickly. The family lost all their belongings. A ship nearby saved all the passengers.
The Hopkin's farm bordered land owned by the Lapeer pioneer William Wallace (which he had purchased from the Lyle family). Inter-marriage linked the Hopkins and Wallace clans in the Settlement. The Downies and Hopkins were also related by marriage.

Jennie Mair (Currey) Family
Earliest records of Jennie Mair Currey's paternal relations place them in Sterlingshire, Paisley, and Kilmarnock, Scotland. Jennie's mother Janet came with her parents to the Scottish Settlement from Paisley in 1842. John Mair came from Kilmarnock in 1845 when he was 19. He and two brothers came to America through New York.
(This is important for my genealogy because Margaret Mair and John Wallace were the parents of my David Wallace. I have long suspected that it might have been David's maternal side that drew him to Almont Township as well as the Wallace side).

The Milliken Family
In the first quarter issue (January to March) of the Lamplighter (The Newsletter of the Almont Community Historical Society) is an article by Barbara Laughlin Adler entitled "Millikins and Mortons in Scotch Settlement Cemetery". With Barbara's permission, I'll record her valuable document so that others can use it for their research.


The Paton Family
The Paton descendants have the most comprehensive and fascinating website. There is a great memoir by John Paton in Hildamae Bowman's book. It is further evidence that these families came from the Galston area of Scotland.
"In 1852, my father brought his family to Michigan. (this is the same year that David Wallace and Catharine McEwan came to Michigan) We left Galston on Saturday, the eighth of May, and stayed over Sunday at Uncle Alexander's in Glasgow. On Monday, we took the steamer down the River Clyde, and sailed from Greenock on the sailing ship "Conway" that evening, and landed in N.Y. seven weeks from that day...... We went to Albany and Buffalo by rail and from there to Detroit by steamer-The Atlantic- Friday evening. (That vessel was wreaked on her next trip from Buffalo.)."

The Reid Family
The Almont Chapel, which was built about 1870, was erected on land donated by the Reid family.

The Robertson Family
In November 2006, I began a correspondence with Joe Robertson, a direct relation to William Robertson one of the four founders of the Scotch Settlement. Joe had in his possession an entire family history that dated the Robertsons (related to the pioneer William) back to the 1700s in Scotland. The notes below are from Joe's research:
William Robertson came on the ship Chieftain in 1832. There are letters and pictures dating from the 1800's (The camera was invented in 1827). A family member has the Robertson Bible (in West Bloomfield, Michigan as I write this in 2006). William married Margaret Gray and they sailed to North America from Stewarton (Stewartown?) Scotland. They came into Michigan at Port Huron and then went straight to Almont (must have come via Canada?). Joe says that Scotland did not allow immigration until 1827 after which the flood of immigrants started. He says that the Reside family and the Robertsons shared a one room cabin in 1832 (would they then have been on the Chieftain?). My records say it was the Hopkins they sailed with and shared a cabin with (will have to sort out later).
Margaret (Gray) Robertson died in 1840, 3 months after giving birth; she was only 40 years old. Robert Robertson was born in 1835 and died in 1910; there is a recording of his voice preserved. He died in Kansas City while visiting his son and was shipped back to Michigan for burial. He re-married after Margaret died.
Joe says the Robertsons originally were from a town on/near Lock Rannock .
Joe says that he visited the Scotch Cemetery and while in Almont he met Willie Borland who turned out to be living in the original Robertson house; but the Borlands have been there for 120 years. Willie is caretaker for the Scottish Cemetery.
There is a reunion of Robertsons every other year.
Joe has a plat map of Romeo for 1827. There were only 898 people in Macomb County then. Romeo is significant in the research of the Scottish in Michigan. It was a "large town" on the Old Plank road and between Detroit and Almont.
Families often owned to plats of land, one in town for living, and one outside of town for trees to cut for fire wood.
Note: Trace the four original founders of the Scotch Settlement people back in time (Where do Hamiltons fit)
A website, but probably not related to William's line: Robertsons.org
Robert (the son) and William Robertson had houses across from each other where the Borland family now lives.

The Rutherford Family
My Rutherford branch came from Northumberland in Ontario, Canada. Prior to that, the family can be traced back to Sterlingshire in the lowlands of Scotland, just north of the northumberland region of England. My great grandmother Sarah Wallace married Robert Rutherford somewhere in Michigan, probably Lapeer County. I have had suspicions that the Rutherfords and Wallaces knew each other back in Scotland, but no solid evidence. One tempting clue from census records shows a Robert Rutherford working alongside a William Wallace (not the pioneer) on the Reid Farm in the Scottish Settlement. If this Robert is Sarah's husband (soon) to be and her brother William (the ages match up) then the historical chain that ties Wallaces with Rutherfords has a first link.
Another interesting possible connection is that a Mary Rutherford was married to the pioneer George Bowman. They were of English origin I believe, but the Northumberland region of England is next to the borders region of Scotland where the Rutherford clan was located. My relative Robert Rutherford may have traveled from Northumberland, Ontario to the Scotch Settlement because he had Bowman relatives there.

Stephen Family
In early 2006, I exchanged a series of emails with Tracing Crud, a relative of the Scotch Settlement Stephen family. Tracing had extensive records on this Ayrshire family. Her records indicate that the Gray family came from Kilwinning, Aryshire. She writes:
"One of the Gray daughters married a Reside who married a Stephen, but it was a decade or so after they emigrated. There were letters that came from Andrew Stephen who wrote to family back in Kilmarnock, Ayrshire around the turn of the century. Those letters have sense been misplaced, but I remember reading them. There is also something in the front of a family bible."
"Agnes Wallace Stephen is buried in a cemetery near Hunters Creek just south of lapeer. I am pretty sure that she was widowed prior to emigrating. I think her son came first to the Scotch Settlement or Armada with his family. Agnes then came with some siblings (Wallaces) and with some of her children. The family in Kilmarnock Scotland lived in a house called something like Rose Cottage on Elm Bank.

Thompson Family
"James Thompson was known throughout the Scottish Settlement and vicinity as "Poet Thompson.... He came to Almont Township as a pioneer in 1833, having emigrated from his native town of Paisley, Scotland, a few years before." (2)
I began to wonder as I did research if James Thompson was alone when he came to America. This did not seem likely. As I searched, I came across several pioneers with the name Thompson- or some variation of the name. I'll list these as I find them and then try to make connections later.
In Macomb County in Bruce Township was an Is sac Thompson, a Bruce Township supervisor from 1836 to 1837. This would make him a contemporary of James and place him in the same Scotch community. (2)

The Wallace Family
In the family memoirs "Family Records and Stories of Scotland"; about the Downies; Hopkins, and Wassons, by James Hunter Downie, is this startling statement by James Downie: "The Wallace boys and I used to play together and I saw them often, as Mr. Wallace had bought the Lyle farm which was just back of our farm. We boys used to hunt with bows and arrows, and had lots of good times together. I did not know until later that they were relatives of mine. Mr. Wallace was a direct descendant of William Wallace, the Scottish patriot."
If only that were true! We know now that the patriot William Wallace had no direct descendants that records can verify. Perhaps there is a relationship to one of the patriot's brothers, but this has yet to be proved. As a relative to this Wallace clan, I am intrigued by this declaration and will follow up as time goes by.
Jim Wallace (who lives in Louisiana) put together his family lineage that takes the pioneer William Wallace back to Scotland. That lineage is recorded below. First, here is an extended quote about the Wallaces who lived in the Scottish Settlement taken from the book "Portrait & Biographical Album of Genesee, Lapeer & Tuscola Counties:"
"WILLIAM WALLACE: Our subject is a farmer and stock-raiser, located on section 36, Almont Township, Lapeer County. Bearing the illustrious name which he does, it is not surprising to learn that he comes from Scotland, where he was born July 10, 1809. He is a son of William and Jean Donald Wallace. In the early days at home he received but a modicum of education, but like most of the Highland Scots he learned to read, his thoughtful and earnest mind was ever eager for literary food of the best class. His father died when he was about eight years old, and our subject was obliged to go to work in the cotton mills, continuing in that employment until just previous to his departure for America.
"Even with the small wages that the workmen in the factory cities of Scotland received, our subject was enabled to pay up a small amount of money, for he was prudent and economical, and was moral in every way, being temperate in his habits, neither smoking nor drinking. He was married July 6, 1844, when he was about thirty-five years of age. His bride was Miss Janet Bodes, a daughter of Thomas and Margaret (Stark) Bodes. Five days after the solemnization of this nuptials they took vessel for America. On the way over Mrs. Wallace took the fever, and they were quarantined at Staten island for one month after their arrival. On her recovery the couple started for Michigan and came to Romeo (located south of the Scottish Settlement in Macomb County).
"Soon after locating here our subject procured eighty acres of land in Meta mora Township, Lapeer County. He here built a log house, which served them as home for about three years, at the end of which time they exchanged farms with another man and got the eighty acres upon which they now live. Since that time they have added to it from time to time until they now possess two hundred and sixty acres. They have recently sold forty acres to a son.
"Mr. and Mrs. Wallace are the parents of ten children: William B., Margaret, Thomas, James, Jean, Janet and Agnes, who are twins, John, Alexander and Isabel. William was born in Lapeer County, September 8, 1845; he served in the army for two years and eight months; his home is now in Tacoma, Wash. Margaret, whose natal day was May 10, 1847, married Hugh Glove r, a farmer of North Branch; Thomas, who was born March 13, 1849, married Janet Thompson, and lives near Barr City, Col., where he is engaged in farming; James, who was born in July, 1851, resides in Colorado, and is the owner of a large herd of cattle and horses; he is still unmarried. Jean married A. Boston; her home is now in Colorado. Janet married John Balcony and lives in Sanitary county; Agnes is the wife of James Clarinet, and lives in Almont; John lives in St. Clair county; Alexander rents his father's place and lives at home; Isabel is still unmarried."
The following is a family genealogy provided by Jim Wallace a contemporary researcher. In email correspondence Jim has said that part of the following was taken from a family bible. This is the line from the pioneer William Wallace back to Scotland and forward into Jim Wallace's family.
1. WILLIAM1 WALLACE was born 30 September 1771 in Mauchline, Ayrshire, Scotland, and died Act. 1817. He married JEAN DONALD 3 January 1797. She was born Unknown in Participial, Glasgow, Scotland, and died Unknown.
Children of WILLIAM WALLACE and JEAN DONALD are:
i. AGNES2 WALLACE, b. 6 October 1797, Linlithgow Bridge, Scotland; d. 17 December 1867, Metamora, Michigan; m. JAMES STEPHENS; b. Unknown; d. Unknown.
ii. JOHN WALLACE, b. 11 September 1799, Linlithgow Bridge, Scotland; d. Unknown.
iii. MAGDALAN WALLACE, b. 18 January 1802, Kilmarnock, Ayrshire, Scotland/Kilmarnock, Scotland; d. 15 October 1809, Riccarton, Scotland.
iv. JEAN WALLACE, b. 8 June 1804, Riccarton, Scotland; d. Unknown.
v. MARY WALLACE, b. 2 October 1806, Riccarton, Scotland; d. Unknown.
2. vi. WILLIAM WALLACE, b. 10 July 1809, Riccarton, Scotland; d. 13 December 1894, Almont, Michigan.
vii. JAMES WALLACE, b. 27 August 1811, Riccarton, Scotland; d. 27 June 1862, Richmond, Virginia.
viii. ALEXANDER WALLACE, b. 21 April 1814, Riccarton, Scotland; d. 28 April 1815, Riccarton, Scotland.
ix. (UNNAMED STILL BORN SON), b. 29 March 1816.
x. ALEX WALLACE, b. 19 March 1817, Riccarton, Scotland; d. 27 March 1817, Riccarton, Scotland.
Generation No. 2
2. WILLIAM2 WALLACE (WILLIAM1) was born 10 July 1809 in Riccarton, Scotland, and died 13 December 1894 in Almont, Michigan. He married JANET BOWES 5 July 1844 in Glasgow, Scotland, daughter of THOMAS BOWES and MARGARET STARK. She was born 24 August 1821 in , Scotland, and died 20 February 1899 in Almont, Michigan.
Children of WILLIAM WALLACE and JANET BOWES are:
i. WILLIAM3 WALLACE, b. 7 September 1845, Metamora, Michigan; d. 10 June 1923, Oakland, California.
ii. MARGARAT WALLACE, b. 10 May 1847, Metamora, Michigan; d. 28 October 1913, North Branch, Michigan; m. HUGH GLOVER, Unknown; b. Unknown; d. Unknown.
iii. THOMAS B. WALLACE, b. 13 March 1849, Metamora, Michigan; d. 25 August 1935, Arvada, Colorado; m. JANET THOMSON, Unknown; b. Unknown; d. Unknown.
iv. JAMES B. WALLACE, b. 20 July 1852, Almont, Michigan; d. 15 August 1926, Grand Junction, Colorado.
v. JEAN D. WALLACE, b. 4 November 1854, Almont, Michigan; d. 29 December 1922, Sandusky, Michigan; m. A. BOLTON, Unknown; b. Unknown; d. Unknown.
vi. JANET WALLACE, b. 2 March 1857, Almont, Michigan; d. 27 April 1942, Sandusky, Michigan; m. JOHN BALHOFF, Unknown; b. Unknown; d. Unknown.
vii. AGNESS WALLACE, b. 2 March 1857, Almont, Michigan; d. 29 December 1922, Meeker, Colorado; m. JAMES CLUBINE, 17 December 1884; b. Unknown; d. Unknown.
3. viii. JOHN B. WALLACE, b. 22 December 1858, Almont, Michigan; d. 2 December 1943, Oakland Co., Michigan.
ix. ALEXANDER WALLACE, b. 23 May 1861, Almont, Michigan; d. Unknown.
x. MARY ISABELLA, b. 3 June 1865, Almont, Michigan; d. 2 May 1898, Port Huron, Michigan.
Generation No. 3
3. JOHN B.3 WALLACE (WILLIAM2, WILLIAM1) was born 22 December 1858 in Almont, Michigan, and died 2 December 1943 in Oakland Co., Michigan. He married ELIZABETH POWERS 22 December 1881 in Almont, Michigan, daughter of LEVI POWERS and JANE ROBINSON. She was born 12 November 1864 in Armada, Michigan (Source: 1880 Census, roll 592, pg 289), and died 22 September 1941 in Almont, Michigan.
Children of JOHN WALLACE and ELIZABETH POWERS are:
i. ELVA B.4 WALLACE, b. 11 March 1883, Armada Township, Michigan; d. 22 January 1901, Berlin Township, Michigan.
4. ii. ELMER JAMES WALLACE, b. 16 December 1884, Berlin Township, Michigan; d. Unknown.
5. iii. FLOYD OLIVER WALLACE, b. 4 January 1887, Armada, Michigan; d. 26 May 1967, Waterford Township, Oakland Co., Michigan.
iv. HELEN AGNES WALLACE, b. 10 March 1893, Berlin Township, Michigan; d. Unknown; m. ? THOMPSON.
6. v. HOWARD WILLIAM WALLACE, b. 18 April 1897, Berlin Township, Michigan.
Jim Wallace has recorded more of this lineage, but I have only preserved the earliest records for this discussion.
David Wallace filed for naturalization papers April 24, 1860. A William Wallace filed February 5, 1849. David (my ancestor) shows up in the Almont census for 1860, adding further evidence that his family was related to the Scottish Settlement group.
The pioneer William Wallace was born July 10, 1809 in Scotland, and he died in Lapeer County December 13, 1894. He is buried in the Scottish Cemetery. Also in that cemetery is a John Wallace born December 22, 1858, died 1943; a Janet Wallace born August 24, 1821, died 1899; Eva Wallace born March 1893, died 1901; and an Elizabeth Wallace born November 12, 1864, died 1941. The life span of William Wallace is significant (for me) because it overlaps with my David and Mary who show up in the Almont census as early as 1860. Their third child Sarah Wallace (my great grandmother) was born in 1858. David was born on the 28th of September, 1831. He died in Goodland Township in 1912. David was closely related with the pioneer William Wallace..... but how?
In the 1892 book called "Portrait & Biographical Album of Genesee, Lapeer & Tuscola Counties," by Chapman Bros., on pages 517- 524 is a discussion of a pioneering Wallace family. The patriarch of this Wallace clan was a man named William Wallace. He lived on section 36 in Almont Township. Section 36 is in the heart of what came to be called the Scotch Settlement. It is in the very southeastern corner of Lapeer County, Michigan. The Lapeer segment of the Scotch Settlement was bounded by the county line on the south along Macomb County, and on the east by the county line for St. Clair County.
When I was looking through property records for Lapeer County I found a transaction involving David Wallace and Anges Cochrane. It appears to be part of David Cochranes will. Here is what I have from that record:
Book 7, page 554, under "Warranty Deed" (in the books/records that deal with property) transactions. David Cochrane by Admin(?) To David Wallace June 23 1870, 6 PM (John Abbott Register). Made this sixth day of January, 1870 between Agnes Cochrane Administrator of the estate of David Cochrane deceased of the County of St Clair and David Wallace of the County of lapeer, $500, and to his heirs all the following land: South east quarter of the north west quarter of section 14 in Township eight, north of range twelve east in Lapeer County.
This strongly suggests some connection between the Cochrane and Wallace families and between Lapeer and St Clair Counties. There is also a Marr Road that branches off Scottish Settlement Road, and a Bordman Road that is the dividing line between Macomb and Lapeer and between St Clair and Macomb Counties. What this clearly shows is that the Scottish Settlement extended over three counties.
Research in Macomb turned up a Robert H. Wallace who was Macomb County Registrar from 1848 to 1852.

The Wassons
John and Jenny Wasson came to America in 1835 and settled near the Hopkins family. They had no children but always enjoyed having the neighbors' children visit them (11). James Downie says "..they were very, very kind to me and I was often in their house. No kinder person ever lived than Jenny Wasson. (11)" Before coming to America, both John and Jenny worked for Lord Eglinton (Archibald William Montgomerie, 13th Earl of Eglinton). "John used to come up to the Hamilton's at night, and he would sit and smoke and talk about old times in Scotland.
"In 1881, the Wassons had gotten to the time when it was hard for them to take care of themselves, and Thomas Lyle, who lived near Lapeer about 30 miles away, came and took them to his home. The Lyles were relatives of Mrs. Wasson, and had formerly lived in the Scotch Settlement not far from the Wassons, and across the road from the back end of the Downie farm." (11)

Letters to and from Scotland
This is a new section. I have some letters but have not had time to post them- stay tuned.
Anita Gray Fesler put together a book in 1987 called the "Gray Family History of Romeo, Michigan". This book has a fascinating set of letters that went to and from Scotland during the early days of the Settlement:

Relationships: Intermarriages and Family Links
My goal in this section, at least at the beginning of the study, is to simply list the relationships as they become known to me. Families were very large and the Scottish tended (like all groups) to marry their own kind. We would expect then to find a rich meshwork of intermarriage between all the families in the settlement. We would also expect to find that the intermarriages were common in Scotland before the migration.
This got out of hand quickly, so I made a link to a relationship page.
We know that the Braidwoods knew the Reids (Reeds) in Scotland because of a letter that Mark Braidwood sent to his wife who was still in Scotland. He refers to his friend Hugh, "Tell Hugh Reed to come out and have a month of shooting." We also know that Mark had two brothers who came to the Settlement with him, George and Alexander. Alexander married Mary Milliken and so established a link between Braidwoods and Millikins. Jane Braidwood married David Borland (not sure where). Paton family records say that David and Elizabeth Paton left Galston in 1852 with letters for the Braidwoods. So, the Braidwoods are linked to the Reids, the Millikins, the Borlands, and the Patons.
There is a connection between the Hamiltons and Mairs since Janet Hamilton married John Mair in Michigan, presumably in the Scotch Settlement. I also know from my own family research that my GGG grandfather John Wallace married Margaret Mair in Scotland. The Hamiltons were also friends with the Mortons. Records indicate that when John Hamilton and his wife Mary Dunsmore arrived at the Scottish Settlement they were greeted by their friend Thomas Morton. Jean Downie also married into the Hamilton family. So the Hamiltons have connections with the Mairs, Wallaces (probably), Dunsmores, Hamiltons, and Mortons.
David Cochrane married Christine Rattray in Scotland before coming to the Settlement. John Rattray married Elizabeth Ferguson in Scotland before coming to Almont in 1854. Rattrays also intermarried with Reids and Hamiltons.
John Milliken moved from his native Ireland to Scotland when he was 18. He married Janet Reid from Ayrshire. Patons also intermarried with Millikins in Almont.
The Hopkins were best friends with the Robinsons. The were also related to the Downies, Wallaces, and McKays. Evidently, the Wallaces and Cochranes also were either related by marriage, or were close friends.

Geography of the Scotch Settlement
The Scotch Settlement was east and slightly south of the nearest town of any size called Almont. The Clinton River flows near the settlement on the west side. The county line to the south between Lapeer and Macomb Counties is Bordman Road, no doubt named after the Scottish family who lived in the Settlement. The line between St. Clair and Lapeer Counties is called Mackie Road. Running parallel to Mackie Road are two roads that run through the Settlement, Cochrane Road (running through the Cochrane land), and Scotch Settlement Road; these run north/south. Running parallel to Bordman Road going east/west is Hough Road. North of Hough, running east/west is Almont Road. Just South of Hough is a short stretch called Marr Road, There is another Cochrane Road northeast of the Settlement in St. Clair County.This road runs parallel to the nearby border of St. Clair and Lapeer Counties, and runs toward the border of Macomb County. The area is sometimes referred to as the four corners, adding the line with Oakland County, which is also not far from where the settlement was located. Scotch Settlement Road becomes McKay Road when it runs through Bruce Township in Macomb County.
There are 18 Townships in Lapeer County. Over time, Scotch Settlement families moved into Almont Township in the lower right hand corner of Lapeer County. Just west of Almont is Dryden Township, further west is Metamora Township, and on the lower left hand side of the County is Hadley Township. Above Almont is Imlay Township and north of Imlay is Goodland Township. David and Catharine Wallace are buried in the Imlay City Cemetery. They died in Goodland County.
The Imlay City Historical Society has a one page information sheet about the Scotch Settlement:
"The Scotch Settlement included parts of Bruce Township in Macomb County, but as settlement increased in Lapeer County the community became more and more dominated by Almont families. The Scotch settlement centered around the United Presbyterian church. The (Almont) society itself was organized on December 11, 1846 in Bruce. However, in 1852 a church building was erected on Scotch Settlement Road, just north of the county line, with the cemetery just south of the church. The first pastor was the Rev Andrew Irons who came in 1854. The settlement grew, and he was succeeded by 4 pastors. The last regular pastor was the Rev McCampbell who served about 25 years and retired about 1916. The church building was later sold and moved away about 1943 (Pioneer Families and History of Lapeer County, Michigan).
It seems from the Imlay City document above that the seeds of the Scotch Settlement were laid down in Bruce Township in Macomb County, and that the families spread out from that location. A quick internet search turned up some interesting information about Bruce Township:
"Located in the northwest corner of Macomb County, Bruce Township is bordered by Oakland County to the west, Lapeer County to the north, Washington Township to the south and Armada Township to the east. Organized in 1833, Bruce Township has retained its rural, agricultural based character. Bruce Township is situated in the northwest corner of Macomb County, about 25 miles north of Detroit. This is primarily a flatland area, with several small lakes interspersed. It has recently come under heavy urban development due to its location to the greater Detroit metro area, with new subdivisions and businesses moving into the area. It is bisected by M-53 which runs north/south. The township office is located in Romeo.
"In 1832 settlers met to form the town of Bruce, naming it after the heroic Scottish King, Robert Bruce, (1274-1329) who assisted William Wallace in the struggle to split from England. A story goes that, while hiding from his enemies in an old hut, he watched a spider trying to swing itself from one beam to another. After trying 7 times, it succeeded. Bruce, having lost 6 battles, was losing hope until he saw the spider's success -- if the spider could try that many times, so could he. He went on to win in 1314 at the Battle of Bannockburn against Edward III.
A quick check for the name McCampbell came up with the obituary of Rev McCampbell's wife:
Almont Herald June 12, 1919 Lapeer County, Michigan
Mrs. L. McCampbell
It was with great sorrow that the people of Almont and Bruce United Presbyterian church received word of the death of Mrs. McCampbell. She was born Feb. 26, 1851, at New Castle, Pa., and died April 30, 1919, at the home of her son, Arthur in Greensburg, Pa. Her illness was caused by pneumonia and was very short, none of the other children being able to reach her before she died.
Besides her husband, Rev. Luther McCampbell, (who is in very feeble health), she leaves four children, Arthur, Mary, George and Alice.
During the twenty-three years she spend with us, she proved in many ways her undoubted Christian character and very great interest in the church, and all Christian work. The family has the heart-felt sympathy of their many friends.

Questions, Leads, Strategy
01. How were roads named and when? By which farms they led to; Bordman Road led to the Bordman farm, etc.
02. David Cochrane left an inheritance to David Wallace. The Cochranes are somehow important to my personal research
03. There is a Goodland Township library. Check newspapers and genealogy section there; check for obituaries for Rutherfords, Wallaces, etc..
04. There is a first Congregational Church in Almont but no Presbyterian. What happened to the pioneers Presbyterian Church?
05. Trace the location of the Wallaces by their census information; make sure they were in Almont in 1874. I think some of the Scots belonged to the Congregational Church- need further research.
06. Robert Rutherford (Sarah's husband to be) and William Wallace (Sarah's brother) worked together as laborers on the Reid farm; make sure this was in Almont.
07. Dr. William B Hamilton wrote a history of Almont covering the years 1827 to 1876.
08. Get the plat maps from Almont Township for the years 1840 to 1900. Look at Macomb and St Clair County Plats to see who owned the adjacent land.
09. Look again at pages 517 to 524 of the Portrait and Album book; see if you are overlooking something.
10. Show maps that are more and more detailed; start with Michigan to Lapeer (show the townships) to Almont Township to the Settlement
11. The pioneer William Wallace had a daughter named Agnes (a twin?) who married James Clubine (did she become Agnes Cochrane later? Or was a daughter named Agnes, marrying Cochrane?)
12. Look again at the book "Portrait & Biographical Album of Genesee, Lapeer & Tuscola Counties" and search for Scotch Settlement references. What references are given in the book? Look again at the Wallace references and for any of the family names associated with the settlement.
13. If the pioneer William Wallace lost his father when he was eight, then his father died in 1817 (which fits with Jim Wallace's records). If he left for America five days after he got married (July 6, 1844), then I should look for a ship that sailed July 11, 1844.
14. Jim Wallace says that he got records from a family bible. I need to reproduce those records here.
15. Check Bruce Township history since it looks like the settlement might have its roots there. (It does have it's roots there)
16. There was a weekly paper in the 1800s, editor was Patterson. Does any of this remain?
17. At a homecoming celebration in 1909 a special souvenir booklet was written by R.D. Harris and printed by G.W. Paton, editor of the Almont Herald. Can I get a copy?
18. Look at the Mortimer Livingston ship list again and see if any of the above families were on the vessel.
19. There is a Scotch Settlement Cemetery in Macomb County with over 300 graves in it; check this out! (I looked, but there is no cemetery with the Scotch Settlement name- there is a Bruce cemetery, but the names don't look all that Scottish)
20.Parallel to M-53 is the Romeo Plank Road (still called that). It seems to end near Canal Road near Detroit. M-53 ends at Utica. This points to the land route many of the settlers took. Research this route further.
21. There is a collection of volumes called Michigan Pioneers; check these out
22. There is a Lapeer County genealogical Quarterly; review this.
23. Metamora Among the Hills; a book; read it
24. Charles Braidwood wrote a column in the Lapeer County Press called "Looking Back" Be sure to read the columns
25. There is a Ferguson cemetery in Almont Township
26. Were the Masons (Freemasons) active in the settlement?

Thank you to the following people and organizations for their help:
01. Members of the Almont Historical Society
02. Lyn Schwartz, Paton Family Genealogist
03. Barbara Adler, Genealogist for the Milliken and Morton Families
04. John Doppke, Thompson Genealogist
05. The Lapeer Genealogy Society
06. Mary Kay Townsend, Lapeer Genealogist
07. Joe Robertson, Robertson Genealogist
08. Betty Jean Neuenfeldt, Hamilton Genealogist
09. Norm Hamilton, Hamilton Genealogist


Brainstorming some chapters, links, subject/organizational ideas
Was there a mail system in Michigan in the 1850s? Or did most mail get delivered by families who knew each other? It seems that this mail system would be a way for Scottish families who did not know each other especially well to meet and form relationships. In other words, a letter linked more than one person to another.
I attended an Almont Historical Society meeting in 2004 and ended up joining the group. Here are some notes that came from that initial meeting.
Norm Hamilton told me that the old Presbyterian Church was moved and is now a house in Imlay City, on Cornell Road. Homer Bassett bought the church and had it moved to that location. To get there, take old 21 east to Cornell road. It is the first house on the right side (he thought).
The Scotch Settlement school is still standing (where?)
There is a Rutherford County School still standing on Glover Road.
Where is William Hamilton's "History of Almont 1827 to 1876?" I had the library search but they came up with nothing; also nothing from a google search. The Lapeer Genealogy Society gave me some leads- I have yet to follow up.
The Presbyterian church organ was moved to the Summer School Church in St Clair County- at the Tubspring and Cameron Road intersection.
There is a Wallace family still in the area: Howard is the grandfather, Bob is the father, and sons are Terry, Bob, William, Bill. Terry has a twin sister who is now a Johnson. This would be an important family for me to locate.
It is interesting to speculate that the reference to "Gap Brae" may be to an area where burial sites were prevalent.
The Wallaces of Craige were major landowners; as were the Fergussons of Kilkerran, and the Crawfords of Kilbirnie.
In the 1700s, the Presbyterian church wanted everyone to be able to read the bible. This resulted in free public education in Scotland and established the first modern literate society in Europe (5) .

Affiliations
I thought from the beginning of this research that I was dealing with Presbyterian Scotsmen. I soon realized this was not so. There were many religious faiths represented by the over 200 families in the settlement.
Thomas B. Reid was a Republican, a member of the Independent Order of the Forresters, and he and his wife Eliza (Gilmour) were members of the Presbyterian church.

Terminology
Emigrant: A person leaving their country.
Immigrant: The same person entering and settling in another country.
Scotch: According to the custom in Britain, this word refers to the whiskey made in Scotland, and not to the people of Scotland.
Scots: Refers to the people who lived in Scotland (British usage). Not everyone agrees with this distinction between "Scotch" and "Scots", especially in North America where the terms are used interchangeably to refer to the people of Scotland.

Back to Scotland to do More Research
This section is a list of things that I need/want to do when I return to do more research in Scotland.
1. Go to Greenock and get a feel for the area. Check out the maritime records. Take a boat down the river along the route the pioneers sailed as they left Scotland.
2. Go to Linlithgow Bridge and search in the records- also West Lothian Records
3. The Ayr Gorge Woodlands walk, just along from the Failford Inn (stay at the Inn to do some genealogy)
4. The village of Craigie (Wallaces of Craigie; Craigie Castle was once a home of the Wallaces)
5. Bilboa (in Mauchline Parish, probably near Barskimming) where the Wallaces were in the 1851 census. Do a more detailed study of Barskimming
6. Edgerston (?)- look for Rutherford connections
7. Colmonell (Where did their Almont reference come from?)
8. From the book: The most beautiful villages in Scotland: Lowlands: Canonbie; Culross; Deans Village; Denholm; Dollar; Eaglesham; Gatehouse Fleet; Moniaive; New Lanark; North Berwick; Portpatrick; St Albs; Stow; Straiten; West Linton; Yarrow. Highlands: Auchmithie; Ballater; Crinan; Cromarty; Dornoch; Fortingal; Lochinver; Luss; Plockton; Strathpeffer; Tongue. Islands: Baile Mor; Dunvegan; Loch ranza; Rodel; St Margaret's Hope; Stoffin; Tobermory; Walls.
9. Track the Wallace family that stayed in Mauchline (Margaret- when and where did she die; Marion- who did she marry, where and when; when and where did she die; same for Hugh, William, and Alexander- are there newspapers that might have articles and obits?)
10. Find out what newspapers were published from 1820 to 1860 and sample articles to get a flavor of the times; look for advertisements for land and opportunity in North America; ships leaving etc.
11. Edinburgh's New Register House: 17pounds admission and reservations required
12. Royal Museum of Scotland in Edinburgh
13. National gallery of Scotland, Edinburgh (Modern art gallery; portrait gallery; Royal Scottish Academy building; National Gallery; Queens Gallery)
Major Towns in the Settlement
The heart of the settlement was the town of Almont. See Dr. William Hamilton's "A short History of Almont".
Where did the name "Almont" come from?
The town that became Almont was first settled in 1827 by James Deneed. The town was originally named Newburg (in 1836) and the township was named Mya (or Mia) in March of 1834. In December 1834, the township name was changed to Bristol, after Oliver Bristol, the second settler. Finally, in 1846, James Thompson donated the town clock and, according to one source (9), had the town (and township?) names changed to Almont to honor the Mexican general, Juan N. Almonte. This interpretation of the naming of the town, although it is the official version backed up by a newspaper story, is still open to question.
Perhaps the most interesting clue to the towns name comes from an earlier Canadian Scottish community in Ontario. A county called Lanark (after the Scottish town of Lanark in southern Scotland) was settled by Scottish emigrants prior to the time when the Lapeer settlement began to rapidly expand population. At least some of the emigrants who ended up in Lapeer may have come by way of the Lanark, Canada settlement. In Lanark county in Canada is a township called "Almonte". It makes sense that the name was transferred first from Scotland, then to Canada, and finally to Lapeer. The emigrants from anywhere in the world tended to name their new towns after places they were familiar with in their country of origin. Ontario is full of place names that are exactly the same as those in Great Britain.
We could make the case that "Almont" is originally from Scottish derivation, referring to "auld mound", early burial hills that were landmarks in the Ayrshire region of Scotland. There are so many of these old mounts that there is a classification system based on size and historical period. (8) In Craigie, there is an iron age dun that is 19 meters in diameter and has a wall four meters thick. The Scots used these mounds as landmarks. In the township of Bruce in Macomb County, there is a very prominent indian mound that was so obvious Scottish pioneers used it as a landmark. It is not a far stretch of the imagination to suggest that a mound in the Almont region led the pioneers to called the area "auld mound", or Almont. In the book "Aryshire, Discovering a County", this sentence appears on page 350: "Just west of the bridge across the Stinchar (river) is the farm of Almont, the name probably deriving from "Auld Mound", being descriptive of the motte hill that lies immediately to the north east of the farm." This quote refers to the area near the town of Colmonell in south west Scotland.
Also, in Scotland the word "Almont" was used interchangeably (evidently) with the word "Almond". On a Scottish map, for example, one finds "Glen Almont" followed by the parenthetical (Glen Almond). The River Almond flows into the River Tay near Loch Tay. In the town of Colmonell in southwestern Scotland one finds references to Almont; on Rootsweb I found this: "...in Colmonell he was a blacksmith at Almont, Colmonell"; and this "John Snell was born about 1629 in what is now Almont Farm at Pinwherry, a hamlet in the Ayrshire parish of Colmonell".
There is also a Scottish surname "Almont"; I found the family crest and coat of arms. In one account, I read that the surname Calmont (also Almont) is of French origin. It became Macalmont in Scotland, which is really "Mac Almont", the same as in Mac Donald, or Mac Dougal, etc.
A quick internet search turned up several possible influences for the name "Almont." Besides the Almont in Lapeer County, Michigan, there are at least six other towns with the same name. There are Almonts in Colorado, Texas, North Dakota, Pennsylvania, New York, and in Ontario, Canada. The town in Canada is called Almonte (pronounced "Almont" as it is in Michigan, and I suspect it is sometimes written "Almont" because of this pronunciation) after a Mexican general. Here is the statement on the Ontario Almonte website:
"In a region where the early settlers' Irish, English, and Scottish origins are prominent in the names of the communities they founded- Lanark, Corkery, Glen Isle, Scotch Corners, Tadlock, and the like- it seems more than a little odd that our town should be named for a now-forgotten Mexican general...
"At the time, relations between Canada and the United States were at a low ebb, especially here in Ontario. The provinces first major wave of settlers, after all, had been Loyalists, Americans whose sympathies for England prompted them to flee northward during and after the Revolution; and the suspicion lingered in many Canadian minds that the US still intended a settling of accounts.
"American invasions of Canada around 1812 didn't help matters, nor did US military incursions into Mexico during the 1840s. Which is where General Juan Almonte enters the picture. The border skirmishes between Mexico and America during this time were seen by Mexicans as a naked and unprovoked land-grab, and worried Canadians as a cautionary tale- proof positive that the American republic was ready and willing to use force against its neighbors to achieve its territorial aims.
"General Almonte was primarily a diplomat, and was in fact Mexico's ambassador to the United States at the time that open warfare erupted between the two countries. He was hastily recalled to Mexico, and served with some distinction in the field against invading US forces. He was taken prisoner, later released, and died in 1869, lauded by the English press at the time as "a kindly and accomplished gentleman." So in the political climate of the day, the loyal British citizens of our town apparently felt General Almonte was an admirable public figure, and agreed upon the new name of Almonte- which we pronounce "AL-mont" rather than the Spanish "al-mon-tay." And thus it remains 140 years later. (There is a book about General Almonte written by historian Frank Cosentino).
The Canadian rationale for naming their town may not fit so well with an American version, unless James Thompson was a Loyalist of sorts and/ lived in Lanark Ontario before coming to Michigan. He was by all accounts an eccentric, so it is plausible that he had his reasons for wanting to name an American town after a Mexican general. At the moment, I come down on the side of ambiguity- there may have been multiple reasons to call the town Almont.
Although I have yet to determine why the people of North Dakota (Morton County, in the Bismarck metro area), Pennsylvania (West Rockhill Township, Bucks County), and New York (Allegany County) called a town Almont, I did find one reference to the Colorado "Almont" saying that the town was named for a race horse: "...the towns name was changed in 1881 to Almont after the leading Hambletorian stallion of the century". With a little research, I discovered that there was indeed a famous race horse called Almont. He was a trotter, a harness racer. Almont was owned by W.H. Vanderbilt and was the sire of Aldine and Early Rose. He was also the father of three other great trotters, Star Almont, Almont Junior, and Almont Pilot. The people of Almont North Dakota have written a history of their town, but I have not read it yet. The people in Texas called their town Almont after Almont Hill where the early settlers built their houses; but the mystery remains why the hill was named Almont (Auld Mound?). It would be interesting to see if there was a strong Scottish influence in any of these Almonts.
In early 2000, I received this interesting email message from John Doppke, a member of the Almont Historical Society:
Greetings.
I recently stumbled across your web page regarding the Scotch Settlement area of Lapeer County. I currently own what's left of the James Thompson farm and his original house. I am also a member of the Almont Historical Society. I'd be happy to help in your search, although you seem to have located most of the information that is available on the history of the area. I do have a few notes for you:
- All references I've seen always refer to "Scotch Settlement", not "Scottish". The road is in fact named "Scotch Settlement".
- Most roads in the area are named for where they would take you; i.e. Hough Rd would take you to the Hough's farm, McKay to the McKay farm, etc. Tubspring road had a tub spring on it. I do not recall a Bordman family, so I don't know how that got it's name. The original residents were Thompson, Braidwoods and Borlands. Borland and Braidwood descendants still live there today.
- The myth of Almont being named after a Mexican General is widespread and often quoted as fact, but there is no basis for it. It would have been treasonous to name a town after an obscure Mexican General so near the time of the Mexican War. (Almont sent several men to fight in that war.) The area was known for prominent Indian burial mounds and was most likely given the name for that reason. The name Almont is still known in Ayrshire and in fact there is an Almont hotel there. It refers to an old earthworks mound in the area. Unfortunately Hilda Mae Bowman published the Mexican story in her book and implied it had something to do with the donation for the town clock. In fact, the renaming of the town and the money left to purchase the clock happened many years apart.
- The Settlement didn't have specific boundaries and extended down into Bruce Township.
Much of the history of the Scotch Settlement seems to have disappeared and being an owner of one of the original buildings of the settlement I'm always on the lookout for any new information. My interest is based on my house and the families that lived in it as my genealogy is from other areas.
One of my "missions" has been to correct the story of the naming of Almont. People have been repeating the Mexican general story so long that they say it without thinking. I think I may not have been clear in my original explanation. My understanding, which came from the owners of the Almont hotel in Scotland, is that "almont" came from "old mount" or "old mound" in the old Scottish tongue. The "mound" of Ayrshire were the earthworks remaining from an ancient fortification. It is my opinion that the Indian burial mounds, which were common in the area, reminded them of the "Almont" in their native land. I understand there was a very large mound to the north-east of the settlement, where there was also an Indian village. Today, south-west of the Almont area, we have Mound Road, which was named for another burial mound. So these mounds were prominent enough to be considered landmarks.
Unfortunately I haven't been very good at keeping track of my sources. I did quite a bit of research when I first bought my house and then just set it aside when I felt I had exhausted what was available. My original goal was to narrow down the date my house was built so I searched for anything on James Thompson. He was a strange character and apparently well off. When he died in the late 1800s he left $10,000 to Harper Hospital in Detroit, which helped save the hospital. Thompson never married and had no known relatives, so all the information about him came from various local histories. There seems to be very little official written records left from the early days. I've heard that there are some stashed away in Lapeer but I haven't had the time to look.

The Almont Society
I recently found an internet reference to an "Almont Society of the New Church", in Berlin township, St. Clair County, Michigan. I emailed the church staff and began a dialog to discover the connection of this area with the Lapeer Scottish Settlement. The website gave this statement:
Scottish immigrants from Glasgow settled in Berlin Township in 1841. Ten years later, twenty-four of them founded the Almont Society of the New Church. They followed the teachings of Emmanuel Swedenborg (1688 - 1772), a Swedish mathematician, philosopher and scientist whose Christian theological writings form the basis of the New Church. In 1875 members donated labor, materials and money to build this chapel, designed by church member William Morton.
Later, I was sent the following document that contains the information that the Scottish families came from the Glasgow, Paisley area of Scotland:

Scotch Settlement School
One of the teachers was Lizzy Hamilton, described by James Downie in his book (11) as "the sweetest school teacher I have ever known".
Also from James Downie's book: "After I had been going to school a few days, at noon hour the larger boys at school went fishing in a little brook which flowed through the flat at one side of the schoolhouse, called "Tam Morton's Run."

Almont Summer School
1899-1999
"Yes, Almont Summer School will be one hundred years old this summer. At this time I'd like to give you a little of the history of the Summer School and the people who started it. The following account is taken from the Almont cookbook as written by Eleanor Johnson and a history written by Helen Hamilton Finch in 1925.
"The original New Church families that founded the Scotch Settlement near Almont, Michigan came from Glasgow and Paisley Scotland in 1838. Worship and study meetings were held in homes until 1876 when the church was built. In 1899 the first summer school met for one week. The young people boarded at nearby homes, but the minister and his family slept in the church. Rev. E.J.E. Schreck, the pastor of the Detroit church started the camp after spending his summer vacation with the people of the area in their rural church. Rev. Schreck received little support from the people in the area as they deemed it impractical. Rev. Schreck, with the aid of Mrs. Brink of Capac, sent invitations to all the young people in the area. Of those who came, six young ladies were confirmed that year. The one-week camp was such a success they decided to hold it for two weeks in 1900.
"Among the devoted New Church people who thus became known to Mr. Schreck was the aged Mrs. John Allen. This lady was one of the original members of the Almont Society, a pioneer of sturdy Scottish stock, a woman of unusual strength and sweetness of character, and known the county round in those hard early days for her wise head, kind heart and good works. To ensure that her many grand children would have a place to learn the doctrines, Grandma Allan set up a building fund to finance the building of a Summer School with money her children had given her to buy clothes. This fund resulted in the building of the first dormitory building the following summer- a shell of a house it is true, but affording shelter and making it possible for all who came to stay on the grounds. The upper part was for the women and girls, the lower for the men and boys. All slept on the floor on mattresses improvised from neighboring haystacks. Cooking was done in one end of the horse shed on a gasoline stove.
"In 1904, following the death of Grandma Allen, the family had a well dug as a memorial to her. That summer session, a large china loving cup filled with fresh cool water was passed at the last Sunday dining table. This ceremony continued for some years. The loving cup is still at Almont.
"In 1906, Robertson Field across the road from the church was given to the assembly. This was a recreation area but since more room was needed for campers, tents were set up for the boys. Next year the cottage was moved to Robertson Field. A kitchen and dining room were added and the first cook was hired. In 1912, the porch was added and flag raising was in the front yard of the cottage.
"Those years were busy ones. A roomy chancel was added to the church and in 1912 a belfry and bell. It has always been a special treat to ring the bell. In 1921, after the First World War, Old Rec was built with rooms upstairs and a recreation hall below. By the 30's there were dorms all around the field: Little Girls, Big Girls, Boys, the new Recreation Hall (all of the Old Rec now converted to rooms), and little cottages for the ministers.
"During the Second World War it was necessary to close the camp. Due to the rationing of gas a trip to Almont was out of the question. It resumed again in 1946.
"In the 50's a Little Boys dorm was built and a craft cottage was made from a small cottage. Almont continued through the years until the 70's rejuvenation began. A new winterized building housing a recreation hall, kitchen and dormitory wings for boys and girls appeared on Robertson Field. The dining hall was remodeled and Heritage Hall was added. With the purchase of additional land, the church was turned to face camp and repositioned on a new foundation. It too was winterized and refurbished. Almont could now be open for winter retreats.
"In 1983 Brandau Bay was dedicated in the lake that was developed from the mining of gravel on our property. Now there was a lake for swimming and boating and fishing at Almont.
"After one hundred years Almont Summer School is still going strong. Many of the descendants of our founding families still are coming to Almont. On our present board of trustees, four of our trustees are members of the founding families. Mary Lou Jerrett, Betsy Lau (Vice-President) and Barb Tourangeau (President) are related to Grandma Allan and our treasurer BJ Neuenfeldt is the daughter of Eleanor Johnson, who's mother Edith Hamilton Ferguson was a member of the first Confirmation Class in 1899. The Hamilton family of Almont was very active in the early days of the summer school. Uncle Jim Hamilton, as all called him, wrote the words to our flag song "Fling to the Breeze" which we still sing today."

There is a separate page for the Bibliography.

Return to the top of this page